Edie had the wonderful idea of having a recipe theme for these next few weeks. My latest novel, Banquet of Lies, is full of cooking and wonderful food (as well as danger, lies and some romance :)), so I thought I'd share a recipe from it. I had a lot of fun choosing the recipes I used in Banquet of Lies. Most of them are from French cookbooks which give the date when the dish was first recorded, which means I couldn't included tarte tatin, which I wanted to, or a few other dishes, because they were only invented later than my story is set.
The soup recipe below actually isn't specifically French, but it is so wonderful, and appeared in my very first draft of the first chapter, written back in 2007. The order in which it appeared was changed around a lot, but this recipe kept its place 🙂 It's almost summer here in Australia, and so hot that hot soup isn't that appealing, but I'm sure for most of you, this will warm the cockles of your heart. It's delicious. And if anyone wants to see more of the recipes from Banquet of Lies, they can find them all here: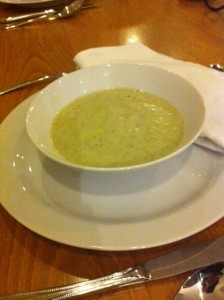 Courgette & Almond Soup
(There are a few variations of this recipe floating around, but I first encountered it in the Avoca Café Cookbook. It is subtle, elegant and sophisticated.)
Ingredients
50g (one quarter of a cup) butter
1 onion, peeled and chopped
1 potato, peeled and chopped
600ml (two and a half cups) veg stock
3 courgettes, finely chopped
25g (one eighth of a cup) ground almonds
125ml (half a cup) double cream, plus extra to serve (I use single cream with no ill-effects)
125ml (half a cup) milk
Flaked almonds to serve
Melt the butter in a large pan, add the onion and potato and cook over a very low heat for 5 mins. Add the stock, bring to the boil, then reduce the heat and simmer for 20 mins or until the potato is cooked. Add the courgettes, bring back to the boil and simmer for 5 mins. As soon as the courgettes are cooked, remove the pan from the heat and stir in the almonds, cream and milk. Purée in a blender, then reheat gently and season to taste. Serve topped with a few toasted flaked almonds and a swirl of cream.
If anyone makes it, I'd love to hear what you thought of it!