Dark Heart of Magic, the second book in my Black Blade young adult urban fantasy series, has been released today, Oct. 27. Woot!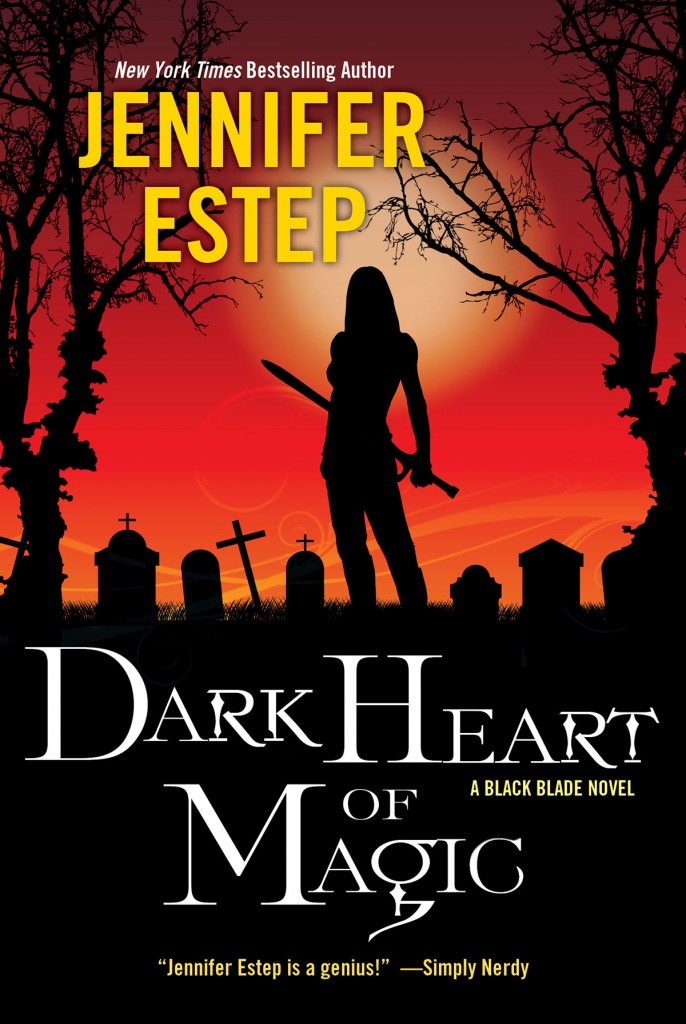 The heroine of Dark Heart of Magic is Lila Merriweather, a 17-year-old thief who lives in Cloudburst Falls, West Virginia, a town dubbed "the most magical place in America." Tourists come from around the world to tour all the magic-themed shops and attractions, as well as see monsters like tree trolls, copper crushers, and more in their natural habitats.
Lila does her best to stay off the grid and avoid the Families — or mobs — who control much of the town. But Lila finds herself caught in the middle of a brewing war between the Sinclairs and the Draconis, the two most powerful Families in town.
The  Black Blade series will have three books in it, which makes it the first trilogy that I've written. As a writer, it's been interesting to write a shorter series, since all of my other series have several books, e-novellas, and short stories in them.
To me, the second book of a trilogy is particularly tricky to write. You want the characters to grow from where they were in book #1, but you also want to leave them enough growth for book #3 as well. Plus, you also want to tell a complete story with book #2 (I hate cliffhangers in the middle of trilogies), but you also have to set things up for the big showdown with the bad guys that you know is coming in book #3.
It's been a fun challenge, and I hope that I will leave readers looking forward to Bright Blaze of Magic, book #3, and the conclusion of the series that will be out on April 26, 2016.
What about you guys? What things do you look for in book #2 of a trilogy?
Dark Heart of Magic is available at the following sites:
Amazon Kindle / Amazon print / Barnes & Noble / Books-A-Million / iBooks / IndieBound / Google Play / Kobo
The audiobook is available through Audible and Amazon. Brittany Pressley is once again the narrator.
And here is the description for Dark Heart of Magic. It doesn't contain any real spoilers for Cold Burn of Magic, book #1, but if you absolutely want to remain spoiler-free, you might want to skip reading the description.
SOMETHING WICKED THIS WAY COMES…
As a thief, I stick to the shadows as much as possible. But when the head of the Sinclair Family picks me to compete in the Tournament of Blades, there's no escaping the spotlight—or the danger.
Even though he's my competition, Devon Sinclair thinks I have the best shot of winning what's supposed to be a friendly contest. But when the competitors start having mysterious "accidents", it looks like someone will do anything to win—no matter who they hurt.
As if I didn't have enough to worry about, mobster Victor Draconi is plotting against Devon and the rest of my friends, and someone's going around Cloudburst Falls murdering monsters. One thing's for sure. Sometimes, humans can be more monstrous than anything else …
You can read the first chapter of Dark Heart of Magic by clicking here. Scroll down, and click on the Read Excerpt tab.
I hope that everyone enjoys Dark Heart of Magic and Lila's new adventure. Happy reading!