Bitter Bite, the 14th book in my Elemental Assassin urban fantasy series, will be out on Feb. 23.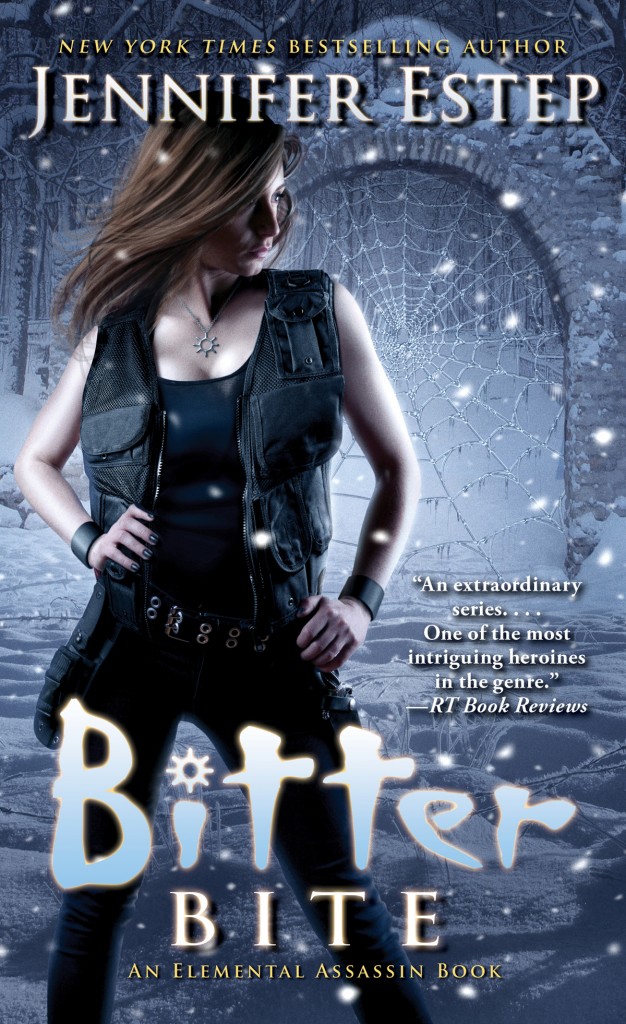 Fourteen books. Wow. Part of me still can't believe that I've written so many books in one series. And there are more to come, as I will be writing at least 16 books in the series now.
When it comes to a long-running series, there are certain books that readers like more than others. In my Elemental Assassin series, it seems like Spider's Revenge (book #5), Heart of Venom (book #9), and Black Widow (book #12) are particular fan favorites. (Leave a comment on this post if you agree or have another book in the series that's your favorite.)
Why do these books seem more popular than others in the series? I think it's because they all have lots of action, truly nasty villains, and really great dynamics/relationships between my heroine, Gin Blanco, and the other characters.
Readers like certain books in a series better, and I feel the same way as an author. Some books just flow easier than others as you are writing them. Sometimes, there's a particular character that you love writing about, or you get to write a story/plot that you've been thinking about for a long time.
When it comes to Bitter Bite, I had a lot of fun writing the villain, and I think the book features one of the best villains in the entire Elemental Assassin series. The cool thing about this villain is that the character comes in and is not only a physical threat to Gin, but also an emotional one as well. So it's like a double dose of evil, but in a good, entertaining way.
Bitter Bite is definitely one of my favorite books in the series, and I hope that it will be one of the books in the series that becomes a fan favorite as well. Fingers crossed anyway. We'll see soon, since the book is out on Feb. 23. 🙂
What about you guys? What are some of your favorite books in a long-running series? What makes you like a certain book in a series more than others?
Bitter Bite will available in print, e-book, and audiobook formats from all the usual retailers:
Amazon Kindle / Amazon paperback / Barnes & Noble / Books-A-Million / Google Play / iBooks / IndieBound / Kobo
The audiobook will be available through Audible and Amazon, and the awesome Lauren Fortgang will once again be the narrator.
And here is the book description:
Which is stronger: blood ties or a battle-tested friendship? That's the question Gin Blanco is asking when a friend's long-lost relative comes strolling back into Ashland under suspicious circumstances. 
It's not easy being queen bee of an underworld abuzz with crooks and killers. Wielding my potent Ice and Stone elemental magic will only get me so far—my real secret is my tight-knit makeshift family, a motley crew of cops and criminals, dwarves and playboys. My foster brother Finnegan Lane is my right-hand man, but when his suddenly not-dead relative comes back into the picture, I'm the one on the outside looking in.
It's funny how life works: one minute your best friend is rock-steady, and the next he's doe-eyed and buying into this whole loving-relative routine to the point of ignoring you. I'd like to be happy for Finn, I really would. But all of my instincts are telling me that beneath the syrupy sweet demeanor and old-fashioned charm, this sudden interloper is planning something. The whole shtick leaves a bitter taste in my mouth. This person might have avoided the grave once, but I'll put anyone who hurts Finn in the ground—for good.
You can read the first chapter of the book here. Scroll down and click on the Read Excerpt tab.
I hope that everyone enjoys the book when it is released. Happy reading!